---
DEADRKGK
REST IN PEACE
DEAD - 24 - CALIFORNIA BAY AREA, USA
---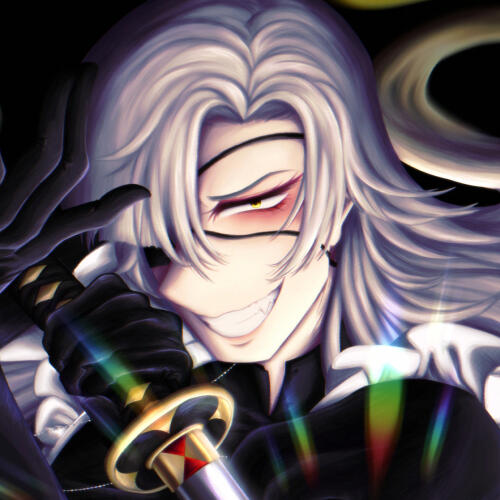 ABOUT ME

Nov. 15th - Scorpio & ESTJ - Freelance artist - Chronically ill & disabled
I use Clip Studio Paint PRO and an Intuos Pen Small (CTL480) tablet for art.

Some things I like:
-My OCs
-iDOLM@STER (OG, Cinderella Girls, Million Live)
-Rhythm games (BEMANI, IIDX, WACCA, Museca, Taiko no Tatsujin, etc.)
-HARDCORE TANO*C
-A whole lot of music in a whole lot of genres! Prog, the hardcore genre umbrella, classic rock, noise rock, etc...
-Hololive (Coco Kiryu, Houshou Marine, Usada Pekora, Gawr Gura, Hako Baelz, etc.)
-Collecting figures & vinyl records
-Writing, for my OCs as of now
-Cooking & baking
& a lot more!

Former/Passive interests:
-Hypmic
-Trigun
-JoJo's Bizarre Adventure + my AU
-Lolita fashion/J-fashion in general

I keep profiles, bios, and all art of my OCs on my toyhou.se page! Valentine is my favorite son & is considered my "mascot" for most things.

I like tabling at convention Artist Alleys! I currently go around the Bay Area, but am looking to expand to SoCal and other parts of the US (like Boston/Massachusetts, where I'm originally from) eventually.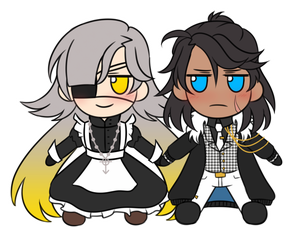 UPCOMING CONVENTIONS:
All conventions are tentative due to pandemic status & my own health in relation to it. My website will be updated accordingly.
KIN-YOOBI CON - Union City, CA - 2022
CARRIERCON - Alameda, CA - 2022
| past conventions | year/season | location |
| --- | --- | --- |
| ANIME DESTINY | Fall 2019 | UC Berkeley, CA |
| ANIME : ROSEVILLE (with LemonyLulu) | Summer 2019 | Roseville, CA |
| FANIME Silver Island Night Market - 18+ | Summer 2019 | San Jose, CA |
| Mini Art Mart (SF Cherry Blossom Festival) | Spring 2019 | San Francisco, CA |
| SACANIME | Summer 2018 | Sacramento, CA |
---
CURRENT AND PREVIOUS WORK:
-Host, curator, designer/editor, artist, and distributor of the Love Transition Charity Zine
-Moderator, curator, designer/editor, and artist for multiple fandom-based events such as DJDWeek and DJD Secret Santa
-Artist for the BEMANI Fanzine
-Artist for the THEROS Fanzine
-Artist for the international JOJOxDERESUTE Collaboration
-Host, artist, and distributor for a Vallejo Sticker Donation Drive
---
BUSINESS CARD
ARTWORKS
Artworks are also available as prints.
CONVENTION EXCLUSIVES
PLEASE NOTE!

Commissions are closed as of July 2021 for health reasons (conditions worsening).
I'm unsure when they'll be open again, but I'll keep all my info updated! All my prices will remain the same upon re-opening.
The below info applies to when they're open.

If you have any questions about closing or my waitlist, feel free to send me a message or email!
---
Please email me, message me on social media, or fill out the form below for inquiries!
PRICING:
Bust / Waist / Thigh-up - 70 USD
+ Additional characters 30 USD each
Bust / Waist / Thigh-up is all for a flat price. Feel free to ask for any of those specifically. I default to thigh-up.
---
SD/Chibi style - 40 USD
+ Additional characters 20 USD each
---
"Clings" - 30 USD
These operate on a YCH-type basis with the same pose. Let me know what you want them to hold!
---
Other commissions are done on a case-by-case basis. Please ask!
Want your SD commission to be on a charm or sticker? Please ask about your options!
Average charm price is about 10 USD a piece (double sided, epoxy finish).
WILL DO:
✓ Fanart, OC's, self-Insert, etc.
✓ NSFW
✓ Shipping
✓ Blood / Guro (Gore) / Body-Horror
✓ Backgrounds, simple or elaborate
✓ Almost anything, feel free to ask!

STRENGTHS:
✓ Men, specifically muscular builds
✓ Darker color palettes and themes
✓ Bunny suits, maid dresses
✓ Blood, guro
✓ NSFW of men
✓ Long hair
WILL NOT DO:
✗ Anthro / Furries
✗ NSFW content of underaged characters (under 18), shota / loli
✗ I will not "age-up" underage characters for the sake of NSFW art
✗ NSFW of any real person
✗ Noncon
✗ Discriminatory art of any type
✗ Art of characters from: My Hero Academia, Attack on Titan, Danganronpa. Final Fantasy XIV characters are tentative depending on detail level.
General info:
-Digital art only.
-PayPal payment beforehand only.
-All commissions come fully colored and rendered / painted unless specified.
-You're free to edit my finished art for you as you see fit. If I miss something while drawing, please let me know! I'll fix it for you.
-All normal commissions come with a background, though complex backgrounds may cost more. SD commissions come with a transparent background and colored outline.
-NSFW is welcomed, but you must be 18+ to commission me for it. NSFW means "Not Safe For Work" which includes but is not limited to graphic depictions of nudity / pornographic content.
-Commissions will be finished within a month/30 days of the invoice date. If they aren't finished by then, I'll send out a refund.
-I may require an extension (due to health or a long commission queue), but will ask beforehand. The maximum I'll ask for is an extra 30 days.
-I cannot accept refund requests from the commissioner if I'm in the line-art stage!

I would like to also note: I'm very chronically ill and it affects my hands. It can take me a while to draw due to pain and to prevent permanent injury. Art is most likely to be done in the middle/end of the 30 day period. Please let me know if you need it done by a specific time/date and I'll do my best to get it done for you before then.

If you have any questions, feel free to send me an email or message me on any of my social medias!
---
PREVIOUS COMMISSIONED WORKS (2019 - 2021)
This is only a selection of previous commissions for examples. Thank you so much to my gracious clients!
---
I retain all original rights to the artwork I produce in a commission. If you'd like a commercial license, please let me know and I'll let you purchase the rights from me for a flat fee, dependent on what your intended use of the image is for. I still require credit as the artist for the image's use with the purchase of a license. You cannot claim my art as your own or as someone else's. I do not distribute the original .CLIP or .PSD files.

If the commission is of a pre-existing character (Fanart), I have the right to sell said art on prints, charms, etc unless specifically requested otherwise. This only applies for those without a license. I always ask beforehand if it's OK to use! I will never use art of Original Characters for anything except promotion of my commissions and sharing on social media/art sites. I watermark all SD commissions upon posting online for theft prevention.

My commissions are never to be sold or minted as non-fungible tokens (NFTs) or put on "blockchain" by clients or others even with a commercial license.
My artwork is never to be sold or minted as non-fungible tokens (NFTs) or put on "blockchain". All NFTs containing my artwork or intellectual property (IE original characters) were not made by me and are illegally minted. I do not support the business of NFTs or cryptocurrency.